Best-in-Class Wooden Pallets Supplier
With over 45 years of experience in wood pallets manufacturing and sales, the products and solutions we provide are guaranteed to improve your supply chain.
Kamps specializes in recycled and new pallets. Our pallets are built from quality materials and precision workmanship. We thoroughly inspect every pallet to ensure that it meets our standards and provides value to your business.
We also ensure that every location lives up to this standard by having standardized building, repairing, and quality control guidelines company-wide. That means no matter what Kamps location you buy your wood pallets from, you are guaranteed consistency in the quality of product and service.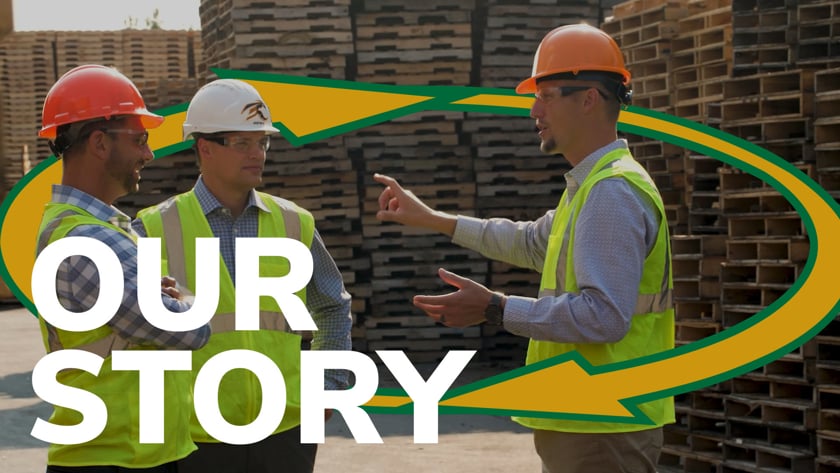 Standardized Pallet Inspections
Every pallet, at every location, is inspected the same way by our specialists to ensure it meets our strict standards.
Due to our size and vast resources, we sell wood pallets at a high volume and meet sudden spikes in demand with ease.
With over 400 strategically placed locations, we have wood pallets for sale across the entire United States, and can deliver pallets just about anywhere.
Data Management & Reports
With our Total Program Coverage™, your pallet program is covered with industry leading data management and reports.
Reconditioned or Remanufactured
Buy Recycled Wood Pallets
Recycled pallets are a more cost-effective & environmentally friendly option compared to new pallets. Our recycled pallets fall into two categories: reconditioned (repaired) or remanufactured.
We extend the same amount of quality of care and materials in our used pallets as we do with all products.
Recycled Pallets Facts
Used pallets can cost up to 30% less than new
Standardized repair process for reconditioned pallets
Standardized dismantling and manufacturing process for remanufactured pallets
Built To Your Exact Specifications
Built brand new, just for you. Kamps has the ability to build new pallets by hand or via innovative machinery.
New wood pallets have the ability to be custom-built from the ground up to fit your exact needs. They can service your business for multiple trips without needing repairs. Once repairs are needed, new pallets can continue serving your business as reconditioned recycled pallets.
New Pallet Facts
Aesthetically pleasing
A great investment
Custom size and style
The most commonly used pallet.
Wooden stringer pallets are fully customizable and are easy to repair, reuse, and recycle. A solid, or notched, runner ("2x4") is used to support the top and bottom deckboard and, depending on product being shipped, this pallet can have from 2 to 5 stringers per pallet.
Wooden blocks instead of stringers are used to support the top deckboards.
Also known as a "true" four-way pallet.
It is a wood pallet with a rectangular, square, or cylindrical spacers between top and bottom decks. A block pallet is usually stronger than a stringer pallet, and has more efficient handling due to their construction that allows pallet jacks to approach them from any side.
A platform with no bottom decking.
Its platform simply rests on stringers attached to the deck. These pallets are usually two-way and almost exclusively used for storing heavy objects. Commonly used in steel and paper industries.
| Pallet Size | Recommended Industries | Recycled Options |
| --- | --- | --- |
| 48x40 GMA Pallet | Grocery, General Warehousing, and More | Reconditioned |
| 48x40 | Grocery, General Warehousing, and More | Reconditioned & Remanufactured |
| 42x42 | Telecommunications, Cables, and Paint | Reconditioned & Remanufactured |
| 48x48 | Drum Transport | Reconditioned & Remanufactured |
| 36x36 | Beverage | Reconditioned & Remanufactured |
| 48x45 | Automotive | Reconditioned & Remanufactured |
| Custom Size | - | Remanufactured |
Frequently Asked Questions
We understand that buying wooden pallets can be a challenge.
Feel free to browse through some of the most common questions you may ask during the process and our helpful answers. For all other questions, feel free to contact us by clicking the button below.